Box tree moth larvae are emerging from their hibernaria, gradually more and more overwintered larvae will emerge each day as the weather starts to warm up again.
The early instar larvae are between 1 and 1.5 cm long, but they can be difficult to find because of their size and the fact that they like to hide between tiny boxwood leaves that they web together. They seem to prefer boxwood plants that receive partial shade but can also be found in full sun gardens.
Watch this video. Inspect your clients boxwood for actively feeding BTM larvae and tree boxwood shrubs to prevent the next generation of larvae and slow the spread of this important pest. Look closely and carefully pull twigs apart to look for webbing, frass and small larvae (1.5 cm long).
These Symptoms are NOT From Box Tree Moth:
Insecticides for Box Tree Moth (Dipel, Bioprotec, Xentari): wait until mid-late May when all overwintered larvae are actively feeding and when temperatures are consistently warm.
Pheromone Traps for BTM
For those of you wanting to order some BTM pheromone traps, here is what we have been using. Each trap with pheromone is effective at attracting adult males.
Here is the trap we used from Solida.ca Gypsy moth trap (milk carton style, with sticky folding trap liner inside) Item #2050500
Inside we used two pheromone lures to be effective for the growing season:
1) Box Tree Moth Gel Lure (3 month longevity, Item #40M2001). Inject gel pheromone inside trap to attract BTM from mid-May to mid-August.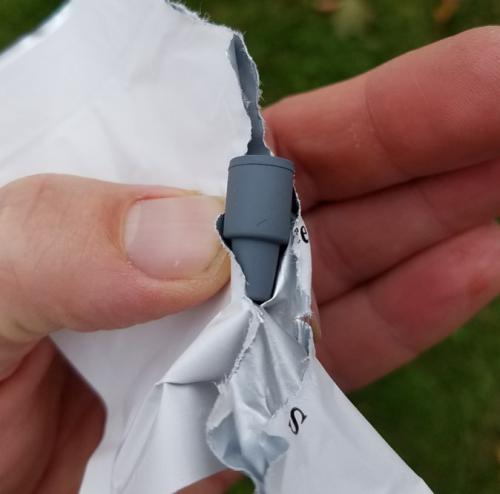 And 2) Box Tree Moth Septa Lure (1 month longevity, item #401PS04). Then in mid-August, we drop in a Box Tree Moth Septa Lure inside the bottom of the trap to attract BTM adults from mid-August to September) Item #40IPS04. We store these lures in the freezer until we need them and buy extra, just in case.
Cut the trap opening on the side of the carton such that the 2 openings become 1 larger opening (see photo attached) to facilitate BTM adults entering trap. Install trap to hang about 1 meter from the ground.